Greater Sudbury's 25th Annual Pride Celebration! | La 25 célébration de la Fierté du Grand Sudbury!
Click on the event names for more information! // Appuyez sur les noms des activités pour voir plus de déatils!
COMMUNITY PROJECTS // PROJETS COMMUNAUTAIRES
Pride Care Packages // Trousses Fierté
Pride Care Packages // Trousses Fierté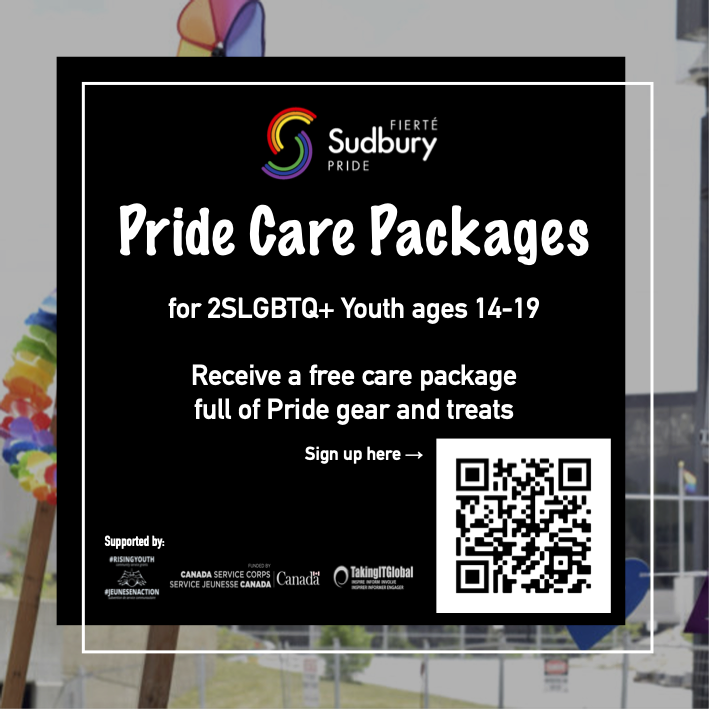 We know how important someone's first Pride season is, and it takes enormous courage for youth to affirm their identities to the world. Available to any youth 18 and under residing in Greater Sudbury, these packages will include all kinds of gear, goodies, and swag so they can still celebrate. Interested youth must register using the link below.
Stay tuned for more information!
Pride Playlists // Listes d'écoute Fierté
Pride Playlists // Liste d'écoute Fierté
Fierté Sudbury Pride has carefully curated a series of Spotify playlists, each one celebrating a particular musical style or a personal mood. There's something for everyone, from the partyers and the loners to the punks and the theatre kids. Listen to them while you work, while you're out for a walk, or during a physically-distant family barbecue. The possibilities are endless!
//
Fierté Sudbury Pride vous offre une série de listes d'écoute Spotify, chacune construite méticuleusement et célébrant un style musical ou un mood personnel particulier. Il y en a pour tous les goûts, autant pour les jeunes de la scène et les partyeurs que pour les punks pis les attristés. Écoutez ça pendant que vous travaillez, en prenant une marche ben tranquille ou blastez ça pendant un barbecue familial physiquement distancié. Y'a pas de limite aux possibilités!
Pick a playlist, turn it up to 11, and have a blast!

Choisi une playlist, cranque ça au max pis lâche-toi lousse!
Big Nickel Lightshow | Illumination du Gros cinq cennes
Big Nickel Lightshow | Illumination du Gros cinq cennes
STARTING AT SUNSET
Dynamic Earth (122 Big Nickel Mine Road)
Have you ever wondered what the Big Nickel would look like if it were just a bit gayer? From Monday to Friday night after sunset, take a selfie with the Big Nickel in all of its glory as all six pride colours are projected and rotated on Sudbury's favourite piece of coin.
* * * * * * * * * *
DÈS LE COUCHER DU SOLEIL
Terre dynamique (122, chemin Big Nickel Mine)
Tu t'es déjà demandé de quoi aurait l'air le Gros cinq cennes s'il était un peu plus gay? De lundi à vendredi soir, dès le coucher sdu soleil, vous pourrez prendre un selfie avec la pièce de monnaie préférée du Grand Sudbury illuminée avec les couleurs du drapeau arc-en-ciel.
Presented by Dynamic Earth // Présenté par Terre dynamique

Big Nickel Lightshow | Illumination du Gros cinq cennes