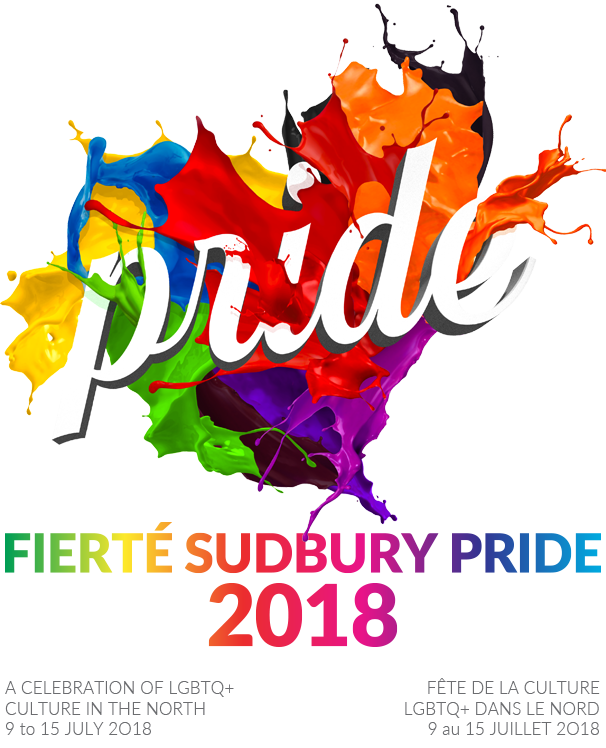 CLICK ON EVENTS FOR FULL DESCRIPTION
9 MON  /  LUN
Flag Raising Ceremony
Presented by Fierté Sudbury Pride
Help FSP kick off Pride Week with our annual pride flag raising event! This year's theme is "Generations of Pride" and we will have speakers of various ages and representations sharing their experiences.
James Jerome Sports Complex, 198 Centennial Dr
FREE
11am
FLAG RAISING CEREMONY
James Jerome Sports Complex
Reading with Pride
Presented by TG Innerselves
Join TG Innerselves for a reading of 3-4 picture books dealing with issues of gender identity and expression. This is an all ages event with a focus on young children and families. There will be time afterwards for a discussion and Q&A
74 Mackenzie St.
FREE
6:30-7pm
READING WITH PRIDE
Main Branch Library
Presented by Sudbury Indie Cinema
"Track Two" is a documentary made in 1982, which looks at the Toronto bathhouse raids and the forces working against the election of an openly gay municipal candidate. The film documents the growth of Toronto's gay community, including the infamous "Operation Soap" where the Toronto Police raided gay bathhouses, and the subsequent protests and positive growth.
After the film, a panel will reflect on the diversity of opinion and of strategies of dealing with police now in 2018 in Sudbury.
85 Elm St.
FREE
Not a ticketed event: but please use this opportunity to buy a Charter membership to Sudbury Indie Cinema, the folks who bring you #QueerNorthFilmFestival .
$40 for a lifetime membership makes you a Co-op member, and eligible for ongoing ticket discounts.
7-9pm
"TRACK TWO" DOCUMENTARY SCREENING
McEwan School of Architecture
Sexy Salsa
Presented by Zoi Monroy, Sudbury's Salsa Queen
This all-ages event is sure to get you in the party mood! Come and enjoy dancing, having fun, and meeting new people.
For more information please contact Zoi at 705-919-7139 or zoi@zoimonroy.com
392 Montague Ave
$10
7-9pm
SEXY SALSA
25/7 Fitness Gym
10 TUE  /  MAR
Memorial Vigil
Presented by Fierté Sudbury Pride
Join FSP at this year's memorial vigil to remember those lost to or affected by AIDS, violence and/or suicide. This is a safe space to heal and to share where we can support one another in solidarity. There will be an art installation where the public is welcome to bring and post stories, photos and/or art work about how they and their loved ones have been affected by HIV, violence and suicide.
The art installation will also be displayed at Pride Day in the Park on July 14, 2018.
6-7pm
MEMORIAL VIGIL
Memorial Park
HEAR THE RAINBOW: Music and Art Show
Presented by One Sky
Original music, original fine art. Watch as our artist creates a work of breathtaking art, live to a soundscape of colour by BBBRTHR. A feast for the ears, eyes and heart. Come celebrate the rainbow for Sudbury Pride 2018.
125 Durham St
FREE (licensed)
7pm
HEAR THE RAINBOW: LIVE ART AND MUSIC
One Sky
11 WED  /  MER
Pride BBQ
Presented by GSPS Chief's Youth Advisory Council, Child & Family Centre, Children's Aid Society, and Sudbury Victim Services
A BBQ in support of sending youth to Rainbow Camp, hosted by the Child and Family Centre, Children's Aid Society of the Districts of Sudbury Manitoulin, Greater Sudbury Police Service, GSPS Chief's Youth Advisory Council, Sudbury Victim Services, and in partnership with Fierté Sudbury Pride.
This event seeks to demonstrate our commitment to building positive futures for all children, youth and families and to strive to ensure inclusivity, safety, and wellness, particularly for LGBTQ2S youth.
Come and enjoy the musical stylings of Sudbury Youth Rocks, participate in an Open Mic session or an expressive arts project that celebrates our diversity and inclusive environment!
Youth, service agencies, businesses, and members of the public are encouraged to come and show their support rain or shine!
65 Evergreen St (off Frood Rd)
$7 minimum donation per person
FREE for participating youth!
11-1:30pm
PRIDE BBQ
65 Evergreen St
Pride Paddle and Ice Cream Social
Hosted by MP Paul Lefebvre
Join Sudbury MP Paul Lefebvre at the Northern Water Sports Centre for the 3rd Annual Pride Paddle. Experience the synergy and teamwork of paddling a dragonboat on Lake Ramsey, then relax on the deck for the free ice cream social.
206 Ramsey Lake Road
FREE
4:30-6pm
PRIDE PADDLE AND ICE CREAM SOCIAL
Northern Water Sports Centre
Beginner Yoga
Presented by Two Souls Yoga
Yoga for Beginners teaches everything from the ground up.  The class is designed to give the participants a solid foundation to build and refine their yoga practice.  The Instructor provides lots of modifications and uses lots of props to make it accessible for every skill level.
229-469 Bouchard St.
Pay What You Can (PWYC)
**Proceeds to FSP**
7pm
BEGINNER YOGA
Two Souls Yoga
Rainbow Rock Show
Presented by Bangers Promotions and FSP
All ages event!! (licensed)
Rock out with some rad queer bands, PONY, Camp Girls, and Ghost Cat! Queer, Trans, and Allies of all-ages are invited to come embrace the power of rock and let their freak flags fly!
6:30 pm – Doors open
7:15 – Ghost Cat
7:50 – Camp Girls
8:30 – PONY
19 Regent St.
Pay What You Can (PWYC)
6:30-10pm
RAINBOW ROCK SHOW (all ages)
The Asylum
Zig's Pride Idol (19+)
Presented by Zig's
This is Your Chance to Win Cash for your talents! You will get one chance to sing your best and be above the rest. Only 3 contestants will perform in the final round where you could win the crown of PRIDE IDOL and CASH.
Get there early, as there will be NO REPEAT SONGS! Limited amount of contestants allowed. Sign up by 11 pm!
54 Elgin St.
FREE
10pm
ZIG'S PRIDE IDOL (19+)
Zig's Bar
12 THU  /  JEU
Families LGBTQ: Dîner-Causerie
Présenté par le Centre de Santé Communautaire du Grand Sudbury (CSCGS)
"Les Familles LGBTQ : Quand le Modèle Hétéro n'a Rien à Voir"
Il existe beaucoup façons de vivre en famille, mais jusqu'à présent, certaines sont moins acceptées que d'autres. Malgré les années de lutte et le travail monumental pour transformer les mentalités, les familles qui ne correspondent pas au modèle «un papa, une maman et des enfants» vivent toujours des défis sur le plan social, émotif et autres.
L'objectif de ce dîner-causerie est d'écouter le témoignage de trois familles sudburoises qui ne correspondent pas au modèle hétéro afin de prendre conscience des défis qui les entourent et qu'ils vivent au quotidien. Des solutions? On en jasera….
Soyez des nôtres!
Inscription obligatoire. Date limite pour s'inscrire : 9 juillet 2018
Pour de plus amples renseignements signalez le 705-670-2166.
19 chemin Frood
$8
12-2pm
FAMILIES LGBTQ: DÎNER-CAUSSERIE
19 Frood Rd
Sign-making workshop
Un partenariat du Centre de santé communautaire du Grand Sudbury et de Myths and Mirrors Community Arts
Affiche-toi!
Atelier de fabrication d'affiches pour la parade de Fierté Sudbury Pride. C'est gratuit et le matériel sera fourni mais apporte tes plumes, perles ou décorations spéciales!
Pour plus de détails :
jdupuislatour@santesudbury.ca ou
Show your colours!
Sign-making workshop for the Pride Parade. It's free of charge and materials are provided, but bring your own bling for that personal touch!
For more details:
19 Frood Rd.
FREE
2-4pm
ATELIER DE FABRICATION D'AFFICHES / SIGN-MAKING WORKSHOP
19 Frood Rd.
Échange de vêtements - Clothing Swap (18 and under)
Présenté par La Slague et le Carrefour Francophone de Sudbury et Sudbury Pride
La Slague du Carrefour Francophone et Fierté Sudbury Pride t'invitent à trouver ton style. Que ce soit pour ta graduation ou pour la vie de tous les jours, voici la chance de t'exprimer avec les vêtements qui te feront te sentir bien.
OK, cool, mais comment ça fonctionne cette histoire? Tu peux apporter des vêtements à donner, mais tu peux aussi arriver les mains vide. L'important est que tu repartes avec les nouveaux vêtements que tu auras choisis!
L'activité est gratuite et bilingue. Nous t'assurons un endroit sécuritaire et joyeux.
Comme le dit si bien Virginia Wolf "« Vaines bagatelles qu'ils semblent être, les vêtements ont, disent-ils, un destin plus important que de nous tenir chaud. Ils changent notre vision du monde et le point de vue du monde sur nous. » La découverte de ton style nous tient à coeur.
Pour toutes donations, contacte Claudine au 705 675-6493 poste 206
******
La Slague, Carrefour Francophone, and Fierté Sudbury Pride invite you to find your style. If you need clothing for graduation or your everyday wardrobe, here is your chance to express yourself with clothes that feel good!
Ok, cool but how does it work? You can bring clothing to donate to the swap but you can also come without clothing. What's important is that you don't leave empty-handed!
This is a FREE and BILINGUAL event. We also assure a safe and pleasant space.
As Virginia Wolf said "Vain trifles as they seem, clothes have, they say, more important offices than to merely keep us warm. They change our view of the world and the world's view of us."
For all clothing donations, please contact Claudine at 705 675-6493, ext 206
FREE
4-7pm
ÉCHANGE DE VÊTEMENTS – CLOTHING SWAP (18 and under)
14 Beech St
Gay/Bi/Trans & Men's Health Clinic
Presented by Réseau ACCESS Network
Come to Réseau for free Information, primary care, vaccines, STI treatment, and HIV/ STI's/ Hep C Testing!
111 Larch St, Fourth Floor
FREE
5:30-8pm
GAY/BI/TRANS MENS HEALTH CLINIC
Réseau ACCESS Network
Big Gay Cabaret!
Presented by FSP and Sudbury Theatre Centre
It's back, the extravaganza unlike any other! Don't miss this FABULOUS night out!  An evening of Big Gay Fun featuring: fantastic entertainment, silent auction, friends, dancing, and FUN!!! Hosted by the incomparable and always sassy Brenda From Accounting.
Come to be entertained by the amazing:
*Sex & Summer
*YES Theatre
*Sudbury Performance Group and the Cast of We Will Rock You
*Sudbury Burlesque
*Freeda Mockery
** And many more TBA!
170 Shaughnessy St.
$20 (licensed)
7-11pm
BIG GAY CABARET
Sudbury Theatre Centre
Zig's Dirty Drag Queen Bingo
Presented by Zig's
DRAG YER ASS ON OUT TO DIRTY BINGO! Hosted by Queens Lady Anya Face and Carlotta Carlisle. It's not your average bingo, but a classic game with a naughty twist…Come one, come all, and bring your dabber too. If you have a fun and kinky side, well this game is definitely for you! Dirty innuendo and sexy prizes! Nobody goes home alone or empty handed shall we say…
54 Elgin St
Free Admission and only $2/card or 3 for $5. Let the games begin at 10pm!
9pm
ZIG'S DIRTY DRAG QUEEN BINGO (19+)
Zig's Bar
13 FRI  /  VEN
Pride Breakfast and Discussion
Presented by Réseau ACCESS Network
Come celebrate and join us for a freshly prepared community breakfast. This year's focus is the importance and value of being inclusive when providing health care services to members of the LGBT2-SQ Community.
Register at http://pridediscussion.eventbrite.co.uk/
117 Elm St.
$25 per person
OR
$160/table of 8
7:30am
PRIDE BREAKFAST AND DISCUSSION
Clarion Hotel/Worthington Room
Makeup Class
Presented by Sephora
Join us in celebrating Pride at Sephora in Sudbury! Our cast members will be in our most Pride-centric makeup, offering a class in store at 3pm. You will learn how to apply flawless foundation, contour and colour correction. As well, you will receive an awesome sample bag full of products handpicked by our cast members. We will have treats and sample bags and prizes to win too!
It's our first year in Sudbury, and we want to show our Pride! Come in and celebrate with us! Please go to https://www.sephora.com/store-locations-events to register for the Flawless Foundation with Colour IQ Beauty Class, spaces are limited!
FREE
New Sudbury Centre
3-4:30pm
MAKEUP CLASS
Sephora, New Sudbury Centre
Sew With Pride
Presented by Sew Local Stitch Lounge
Join us in studio to make a skirt, flag/banner, simple tunic or cape for Sudbury's 21st Annual Pride March! No sewing experience is necessary and all supplies are included! Pre-registration is required to attend this event.
Ages 12+
$29 tax included, all supplies included. All proceeds will be donated to Fierte Sudbury Pride!
To register call 705-822-9182, email sewlocalsudbury@gmail.com or pop by the shop.
1142 Lasalle Blvd.
4-6pm
SEW WITH PRIDE
Sew Local Stitch Lounge
Youth Pride Prom (18 and under)
Presented by FSP and the GSPS Chief's Youth Initiative
Fierté Sudbury Pride presents a Prom night to remember for youth (AGES 18 AND UNDER) for all queer, trans and allied youth in a welcoming, fun and safe atmosphere.
Hosted by Toronto-based Drag Queen, Heaven Lee, there will be music for you to dance your heart out to, a snack table so you won't go hungry, and LGBTQ+ chaperons to make sure everyone is safe and sound!
**Make song requests at Soundjack.ca/requests. Simply enter the date of the event from the drop-down menu and enter the password: "prideprom". Each guest can request up to 15 songs per log in!**
170 Shaughnessy St.
FREE
7-11pm
YOUTH PRIDE PROM (18 and under)
Sudbury Theatre Centre
Get Lucky Dance Showcase and Party (19+)
Presented by Zen Fitness
We are changing the Friday the 13th vibe from bad luck to good luck with GET LUCKY, a Showcase and Dance Party at Zen Fitness.  Join us as we transform the studio into party central, hosted by Aunt Zelda. Featuring Zen Dancers, fun and games, and an after party with a live DJ for you to dance the night away!
Refreshments and Snacks available.
AGES 19 AND UP
158 Durham St
$10 (licensed)
7-12am
"GET LUCKY' DANCE SHOWCASE AND PARTY (19+)
Zen Fitness
Zig's Pride Drag Show (19+)
Presented by Zig's
Featuring LADY ANYA FACE and Carlotta Carlisle!
Sudbury's famous Celebrity Female Impersonator in all her glory with local kings, queens and in-betweens will give you a night of incredible fun! Always a crowd favourite, performing numerous shows! Get your seat early for what promises to be an extremely energetic and fun-filled night! ZIGS is Sudbury's Pride Party Headquarters for the 19+ crowd!
54 Elgin St
$10
9pm
ZIG'S PRIDE DRAG SHOW (19+)
Zig's Bar
14 SAT  /  SAM
MURAL CREATION
Come watch the paint fly as a mural is created before your eyes. Pride will be leaving a colourful mark on the town as SLGTQ+ artists take over the market.
FREE
9-5pm
MURAL CREATION
@ The Market (downtown)
FSP True Colours Family Yoga
Gather up your little ones, friends, and kin for this special "True Colours" Family Yoga experience (weather permitting). Studies show that playful attention to body, mind, and breath can go a long way in helping us cultivate more joy and peace! People of all ages and abilities are welcome to participate in this fun, low impact session with Ginette of Luna Kidz Yoga. Please bring a yoga mat or beach towel.
FREE
11-11:45am
FSP TRUE COLOURS FAMILY YOGA
Memorial Park
Pride Day in the Park
Presented by FSP and Pride Laurentian/Fierté Laurentienne
There's no better way to spend a Saturday afternoon than in Memorial Park, eating hotdogs and burgers, sipping on cold drinks, listening to rad LGBTQ+ musicians, and checking out all the wonderful swag from our amazing vendors! Get revved up for the March, make a sign or two, and make new friends!
Hosted by the amazing, Toronto-based Drag Queen, Heaven Lee!!
FREE
12-5pm
PRIDE DAY IN THE PARK
Memorial Park
PRIDE MARCH
Presented by Fierté Sudbury Pride
Fierte Sudbury Pride is excited to promote this year's Pride Parade that will be starting at Memorial Park AT 2:00 PM and will route throughout downtown Sudbury. Come celebrate the Generations of Pride by joining us in our annual Pride March! Wear your brightest colours, bring your best signs, cheer your loudest cheers, and get ready to show your pride!
With the election of the new PC government on the platform that they will be changing the sex education curriculum back to the outdated 1990's version, completely eliminating queer sex education in our schools, we'll be promoting the messaging "Keep the Sex Education Curriculum the way it is!" so that our queer youth can make more informed, safer and better decisions when it comes to their sexual health rather than having to live in shame.
We encourage others to promote this message with us. For more information on how we can coordinate this message together please contact Fierte Sudbury Pride at sudburypride@gmail.com
2pm
PRIDE MARCH
Memorial Park
Roll Over the Rainbow Pride Game
Presented by Nickel City Roller Derby
Join us for our Pride Week games as the Rebel Rainbows take on the Pride Patrol in head-to-head derby games!
1298 Bancroft Dr
$10 (free for 9 and under)
7pm
ROLL OVER THE RAINBOW ROLLER DERBY GAME
Carmichael Arena
Zig's Pride Palooza!
Presented by Zig's
Star Light, Star Bright, it's RAINBOW NIGHT! Paint yourself in glow in the dark paint and showcase under a black light. Wear white and neon and all things bright… It's the end of pride, so let's celebrate and party it up right! We open at 9 don't wait to late or you may just get stuck at the gate!' $5 before 1am or FREE with your ticket from Friday night's drag show!
54 Elgin St
$5 before 1am ($10 after)
9pm
ZIG'S PRIDE PALOOZA (19+)
Zig's Bar
15 SUN  /  DIM
Spirit of Pride
Presented by St. Peter's United Church
Sunday worship open to everyone under (and in) the rainbow!
203 York St
FREE
10:30am
SPIRIT OF PRIDE
St. Peter's United Church
Panel and LGBT Q&A
Presented by FSP and TD Bank
Come out and relax while a group of panelists discuss queer theory, activism, as well as local and upcoming LGBTQ research. Questions that will be covered in the panel include: what lessons can we take from previous pride movements to help fight back in the current political climate? How does being LGBTQ+ affect the type of job you choose and your ability to find work and be promoted? What is it about some workplaces that makes LGBTQ+ people feel safe to be out or about others that make people feel unsafe?
Panelists will be followed by a Q&A.
Light refreshments will be provided.
80 Elgin St.
FREE
1-3pm
PANEL AND LGBT Q&A
La Fromagerie
Climb the Rainbow
Presented by ARC Climbing and Yoga
ARC Climbing + Yoga is teaming up with Fierte Sudbury Pride for an evening of climbing, community and celebration! Special event pricing includes all your rental gear and free belays up the wall. Climbs will be set up to ensure they are accessible for any and all climbing experience levels.
Door/raffle prizes throughout the evening and a special rainbow-themed climb with prizes for whoever makes it the furthest!
ARC Members are invited to join in on the festivities for FREE!!!
Please note everyone who is new to the facility will need to fill out our waiver prior to participating. This can be done ahead of time at: https://goo.gl/S9ZK3g
1981 Old Burwash Rd
$15 (includes rentals + tax)
6-9pm
CLIMB THE RAINBOW
ARC Climbing and Yoga